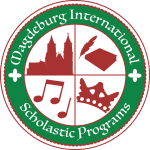 Program Amenities and Costs
MISP makes every attempt to assemble a package that includes all reasonable and anticipated expenses.  We wish to make participation in our program simple and convenient.  This allows participants to plan and to budget with the confidence that they won't later be faced with major unexpected charges.  It also makes the program more accessible to novice travelers, for neither they nor their families need to worry about numerous forgotten expenses.  In saying that Broadway on the Elbe is the most comprehensive program in musical theater on the Continent, we wish to emphasize that we have made a commitment to including as many of the elements—and therefore costs—of such a program in the basic package as possible.  In other words, we do not believe parents should be quoted an attractive initial price only to be faced with numerous supplemental charges after enrolling their son or daughter in the program.
Specifically, the program's price includes all of the following:
Round-trip flight to Germany from the East Coast of the United States
Instruction and rehearsal guidance by talented, professional actors and singers
Accommodations in a student residence
Three meals a day plus a morning snack on weekdays
Round-the-clock supervision and support by residential staff
Transfers from the arrival airport to Magdeburg and back to the airport for departure
All materials necessary for rehearsals and performance (libretti, scores, etc.)
Periodic laundry service
At least three recreational or cultural activities per week
Weekly allowance of pocket money
Passes for the use of public transportation for the duration of the program
Program souvenirs
Four day-long excursions to points of regional interest
One week-long excursion to major cultural centers in the former East Germany and Berlin
The price for Broadway on the Elbe, including particularly the amenities listed above, is $10,000.  The only common expenses not covered by that fee are passport and visa charges (U.S. citizens need only a passport, not a visa, to enter Germany for up to three months), personal items, and cancellation insurance.
Because of the numerous commitments that must be made well in advance of the start of the summer's session, Broadway on the Elbe regrets that it is unable to offer a refund to any enrollee whose circumstances ultimately preclude his or her participation in the program.  Those who are concerned that such an eventuality might arise are strongly urged to consider taking out an insurance policy to protect them against such a possibility.
Decisions regarding acceptance into the program are made on a rolling basis, although September 1 is the latest we can accept applications for the summer of 2018.  The payment of fees follows the schedule presented here, which, we are happy to announce, includes an option to save $500 on the cost of the program by enrolling early:

Download the application form by clicking here.