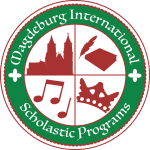 Magdeburg International Scholastic Programs Welcomes You!
Thank you for visiting our site.  We extend a warm welcome to everyone, especially to those who have learned of our program through the International Thespian Festival in Lincoln this past summer or through Dramatics magazine.  Anyone with an interest in musical theater will find Broadway on the Elbe, our summer program in Germany, to be well worth considering.
We are honored that so many accomplished and talented professionals have partnered with us in this venture.  We encourage you to take a few minutes to allow Sarah Knapp, the coordinator of the program in Magdeburg, to tell you what you can expect in your time with us:
As of September 1, we are no longer accepting applications for the summer of 2017, but we invite you to join us in 2018.  In fact, we are pleased to announce that we are able to offer an "early-bird" discount to those of you who apply and can make a commitment to our program by next spring.  The details of this offer can be found on the page that explains the costs and amenities.
As our board of directors continues to refine plans for Broadway on the Elbe, information will be posted to this site.  Check back regularly for those updates or drop us a note at info [at] MagdeburgPrep [dot] org to ask questions or to put your name on our e-mail update list.  As always, you may rest assured that we will not share your contact information with anyone else.