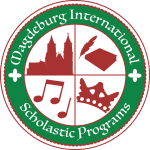 Magdeburg International Scholastic Programs Welcomes You!
Thank you for visiting our site.  We extend a warm welcome to everyone, and we hope you'll spend some time reading about the programs we are proud to offer.  Should you have questions about anything you see on these pages, drop us a note.  We'll be happy to provide you with the information you seek.
We are in the midst of preparations for Magdeburg Adventures for the summer of 2019.  Check back regularly for those updates or drop us a note at info [at] MagdeburgPrep [dot] org to ask questions or to put your name on our e-mail update list.  As always, you may rest assured that we will not share your contact information with anyone else.